Building Leaders of Tomorrow with Fun and Adventure!
About Troop 168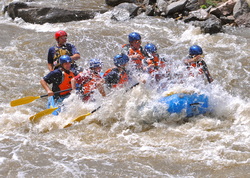 Troop 168 was established in 2002 at St. Laurence Church in Southlake, Texas. Our founding Scoutmaster was Frank Wagnon along with a dedicated group of adults and about 10 Scouts. Today, Troop 168 has about 35 Scouts. Scoutmaster Hector Reyes is surrounded by a dedicated group of Assistant Scoutmasters, Committee Members and adults. Since 2002, we have had 34 Eagle Scouts. We are focused on; and, are proud of our Scouts. We believe focusing on fun and adventure keeps Scouts active and successful.


Camping

Troop 168's recent adventures include water skiing/tubing, canoeing, beach camping, fishing, rock climbing, rappelling, hiking, mountain bik-ing, backpacking, horseback riding, skeet shooting, rifle shooting, canoeing, whitewater rafting and archery. We have cooked over open fire, with Dutch Ovens, on camp stoves, and backpacking stoves. We have camped at Caddo Lake, Lake Bridgeport, Lake Texoma, Mustang Island, Davy Crocket National Forest, and many other great locations.

Summer Camp Adventures

Every Summer, Troop 168 participates in two or three big adventures. Historically, our Scouts choose to attend Worth Ranch Summer Camp for merit badges. We have had multiple Scouts as Counselors at Worth Ranch Summer Camp.

Troop 168 Scouts usually choose a Colorado Summer Camp for the second adventure. We have attended San Isabel, Camp Alexander, Ben Delatour, and Camp Buffalo Bill, among others. During the Colorado Summer Adventure, the Troop will also have an additional adventure such as whitewater rafting, visiting Yellowstone or Mount Rushmore.

The third Summer Adventure is focused upon older Scouts with an increased adventure limit. Our Scouts have visited Philmont Scout Ranch, SeaBase, Glacier National Park, Appalachian Trail, and Yellowstone.

Community Service

A foundation of Boy Scouts is community service. On every campout, our Scouts complete a service project. In addition to Eagle Scout Projects, our Troop puts up flags at Southlake Town Square for all events. Troop 168 Scouts also contribute time to our Charter Organization, St. Laurence Church, including cleaning trash on Kimball Avenue, clearing brush and various other projects.

Leadership

Boy Scouts builds leaders of tomorrow. No other program today provides the opportunity for young men to learn the life skills of leadership by working in groups to tackle every obstacle. Learning to "Be Prepared" and succeed in every circumstance prepares every Boy Scout for a lifetime of friendships and success.
---
Our Adult Leaders
Hector Reyes - Scoutmaster
Paul Wolf- Assistant Scoutmaster
Tom Panno - Assistant Scoutmaster
Ali Peyrovi - Assistant Scoutmaster
Jeff Simer - Assistant Scoutmaster
Chris Stillwell - Assistant Scoutmaster
Simon McLean - Assistant Scoutmaster